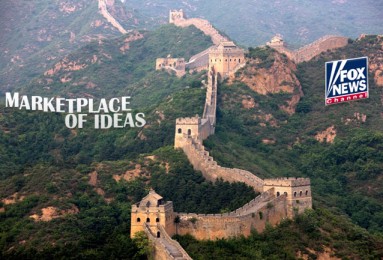 Two events sparked this "what caused political extremism?" rant: Fox News going dark on Dish Network, and North Korea going dark on the Internet. In their own ways both events show us that information – or lack of diverse information – is the primary reason why the hard right (and hard left) in America have become politically extreme. If you want a particular group to become extreme on any issue, all you have to do is ensure they only get information from one source – the one you control. It's the most fundamental rule of every dictatorship going back thousands of years. (That Fox "News" is decided who was allowed into the first Republican Primary debate brought information control to a whole new level.)
Isolating Voters, and "Selectively Educating" to Create Extremism in Politics
As children we're taught that the more ideas we can process the better our decisions will be. We're taught that the marketplace of ideas is good, facts are important, smart debate builds beliefs, dodgeball is a great way to flirt with girls, and kickball is the best game ever. Childhood was fun and interesting.
As adults in post-Fox "News" America, however, the marketplace of commerce is teaching us that the more isolated a business can make a group of people, the more money they can milk from them.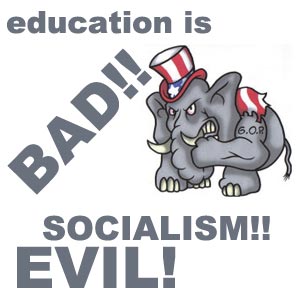 The marketplace of commerce tells us that education is bad, debating means the opposition wants to destroy beliefs, dodgeball causes blindness, and kickball causes autism. Being an adult really sucks. (At least it does if all you watch is Fox News… I know for a fact that democrats enjoy kickball well into their golden years.)
Salesmen and tyrants learned long ago that an isolated, scared, and angry person will spend every last penny to feel as though they are protecting themselves against whatever ghost they're convinced is The Danger. If people are kept ignorant of competing ideas, then they have no clue what they're being told-n-sold are worthless products spun in false narratives full of sound and fury – signifying nothing. (Who plays the idiot is anyone's guess.)
Right-wing media: peddlers of patriotic pennies and commemorative plates who promise pure-bred American patriotism, "If you buy right now!!" – As the money cascades in from the credit cards of the angrily-ignorant of America, those same spit-ball pitchers of the Tea Party-vandalized version of American Freedom bank their Benjamins in offshore accounts. Discretely tucked aways as gold coins and bearer bonds inside safe deposit boxes; side by-side with human-trafficking drug lords and oil-output-restricting sultans (diamonds and ancient artifacts, respectively). These are the people selling right-wing republicans their inverted vision of America. These are the salesmen.
Extreme Republicans' Lack of Diverse Information
Partial blame for this political rant can be finger-pointed at the recent backlash by die-hard Fox News viewers who threw a cyber-tantrum because Dish Network shut off Fox News. As IBT referenced the NY Times, Fox News viewers "tend to be more loyal" than viewers of other networks… red state controlled TV. At this point we have enough data to be confident that the rabid, all-or-nothing loyalty of the Fox News viewer is a result of a lack of information, rather than because the information they process is somehow magically correct while the rest of the world is wrong – or that somehow "everyone else" are involved in a massive conspiratorial lie that's part of a greater effort to kill God and/or their convoluted definition of Freedom. Time and time again we see that the dedicated Fox News viewers are worse informed than people who do not watch news at all.
Exclusively watching Fox News is worse than no news. Fact. But the level of loyalty that right-wing media creates requires more than merely keeping the information its people digest isolated from reality. Isolation is never enough to fully break a prisoner. You have to scare them, too.
What Makes Right-Wing Media Different: It Places Blame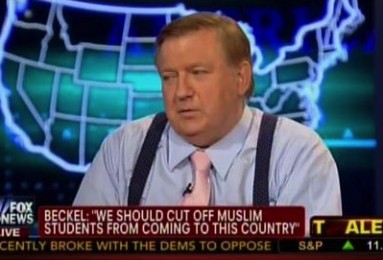 Appointing blame as news is unique to right-wing media. They don't report stories like the "main stream media". They don't even approach a story like most liberal media outlets, which is more like a, "Can you believe they're doing this!?!" type of reporting. Liberal reporting tends to be more akin to complaining, or calling out. Being a tattle-tail. That's why so many deep inside the Red State laugh and say that liberals are whiners. Democrats don't blame, they complain.
Right wing media, however, is very different than all other American media: they allocate blame. They create blame. That difference might very well be the primary characteristic that makes right-wing followers so cult-like loyal. It's the same way junior high bullies control their own gangs: blame, mockery, and a pinch of bravado… in a nutshell, that truly is Fox News. Right wing media modus operandi is to identify the most appropriate enemy that caused an event, rather than reporting the event. Who is to blame is far more important than the what, where, or why.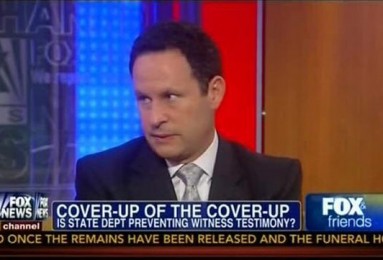 Fox and Friends is quite effective at leading most stories with who their followers should blame. Like gossip and E! Entertainment, the headline is always the who (done it). We all know at this point that if the Fox producers can't find a link, they simply add a question mark at the end of the headline and throw it on a graphic: "Obama caused the moon to fall out of orbit?" — "Hillary kicked puppy found on the doorstep of Nashville church? Laughed?" — "Eric Holder caught making illicit drug concocted from asparagus inside secret 'Justice Lab' in Brooklyn? Confiscated and sold your grandfather's six-shooter to fund his drug smuggling business?" (…we're just asking…)
Most right-wing media hosts openly ridicule anyone with whom they do not agree. Part of the performance is to create a feeling of disgust at the chosen target of the day. They sneer. Their followers learn to sneer with them. They make me feel like I need a shower. This is how these people make their living. These are the salesmen.
Traditional media reports events, liberal media whines about events, and right-wing media blames for events. Why? When you create a common enemy you win the loyalty of the people [ How to be a Dictator and/or Run a Cable News Network, Chapter 1, verse 5. (King Murdoch Version) ].
Business of Republicanism vs. North Korean Governance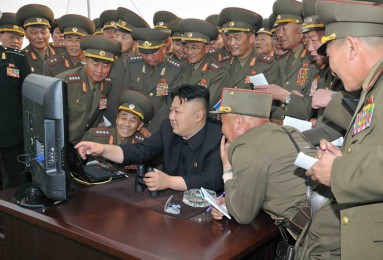 North Korea. Always a source of intrigue and a modern study in how isolating people and making them scared is a great way to keep them controlled. While state-run TV broadcasted their leader at fish farms, some bored hackers decided to have fun by closing down North Korea's internet. Why do extreme regimes control the information their people are allowed to access? Control. This is fact on which even the Tea Party would agree (they just think the rest of the world is lying to them rather than the other way around… just like North Korea).
The more isolated you can make people by means of restricting the information they can access, the more you can control them. Information control is government and big business 101 stuff. Basic. Truth. Control the information and you can control the people. Yes, some people are able to think outside the box, but in truth it is a very small percentage of any population. Add fear on top of the lack of outside views and a weak leader can control 99.9% of a population.
In the same way the average North Korean believes Americans want to kill their children because that's all they hear on their own media, the average hard right-wing republican feels Obama and democrats are the greatest threat to America because that's all they hear. I'm not saying that right-wing media is some tyrannical dictator, but the methods and results of information control are the same.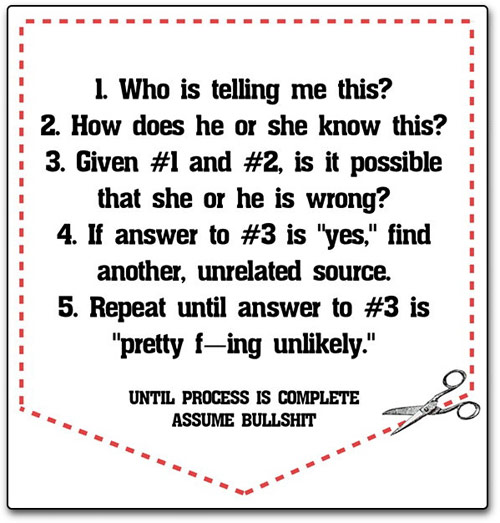 We are not as independently intelligent as we like to think. Our knowledge is almost entirely dependent on social resources. We can only make decisions based on the information we have. That's why extremists in politics like to restrict information, tear pages from biology books, and ban the use of science in science books.
At one time or another, all of us have been told to consider the source. If a group of people only have one source, well… enter political extremism. Enter don't tread on me, and republican primary purification. The backlash we saw by Fox News viewers against Dish Network proved this point. That an extreme right-winger in America can look at North Korea and call them ignorant as a result of a lack of all information, then turn around and throw a fit against Dish Network claiming that "Fox News is the only thing I ever watch!!" … and NOT see the appalling ignorance and hypocrisy in that act… well… I guess they picture-perfectly demonstrate how the average North Korean patriot lives their mental life… without a even a shred of acknowledgement of the absurdity.
We're Not As Smart As We Think We Are
Only brilliant people have insight, and very few of us are brilliant. One only gets struck by insight atoms if they live on a flat disc carried by elephants and a gargantuan turtle. (Few are so lucky.) The rest of us can only use the information we have to make decisions and define what we believe to be truth. The right wing media machine knows this fact better than any other social mechanism.
Democrats will never succeed in creating the same sort of fire-in-the-belly political base, because the average democrat gets their news from more than one source. That in no way implies they're "smarter". It just means democrats generally have more than one source in their bibliography of decision making. Democratic policy also places them forever in plurality, which makes it virtually impossible to spark universal anger at any specific target. I, for one, consider that a very good thing (but it's lousy if you want to sell hats).
There are undeniably die-hards in the left, but on a social level the difference is two-fold. First, die-hard, hemp-wearing liberals aren't isolated like right-wing Tea Party hat-wearers. Insolation, the echo chamber, is the cornerstone of the argument. There are many liberals who only read liberal publications, but even then the attitude is buffered by the complain vs. blame difference between liberal and conservative media. Second, liberals don't have the natural disposition to be motivated by fear and threats that republicans tend to demonstrate deep in personality (hence the extra swagger, bravado, and ginormous military the GOP use to counter their fear and feel "protected"). That natural tendency has made right-wing media billions of dollars. Billions. And when that much money is involved, we're all dumb as rocks.
The Biggest Sucker Is The One Who Doesn't Realize He's Being Sold
Controlling the die-hard far right means more sales: more books, more air time, more products wrapped in the American flag. All told and all sold. The right wing is a billion dollar industry.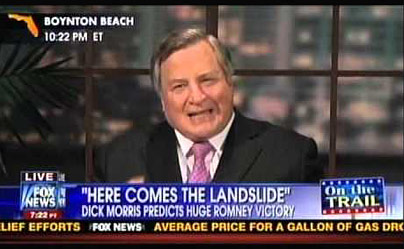 The, "don't trust anyone but me" tactic has worked with everything from fringe religions, to secret societies, to late night infomercials and politics. I've read that Rush Limbaugh was really where the, "don't trust anyone" theme started inside the bloated bowels of the extreme right wing. Rush really was the first to get his listeners to believe that only he was telling the truth and all others are lying. It is a perfect method to maintain listenership, but not even I think he understood how crazy the extreme right would get as a result.
As always, the solution to political polarization boils down to one general area: a lack information and experience. We still live in a country where a state prohibits climate science in textbooks exclusively for monetary / political reasons (thank you Wyoming). Information and education: businesses that profit off the extreme right wing hate both, because they know that knowledge diversity is bad for their bottom line.
Like everyone else, liberals filter information. They omit and selectively remember just as much as any other political ideology. However, information isolation is exclusively employed on the far-right republican side of the political aisle. Day in and day out, republicans rule by restriction, but as long as they do so while wrapped in the American flag, the republican base will be too damn stupid to realize their rights – and in some cases their thinking processes – are being slowly whittled away into the bobble-head world of a CPAC convention.
Being a hard-right republican in America does not mean you are a better patriot than those of us who are not bat-crap crazy about the entertainment Fox News claims is fair and balanced news. Being a die-hard republican in American means you're a sucker who has forgotten that Freedom applies to all people, not just whatever the hell you want to do.
More ideas made this country great. More information. More diversity. More knowledge and understanding. What the business of republicanism has done is the exact opposite: less diversity, less information, and clearly much less understanding. If anything can destroy America it's the ignorance and anger created by the right-wing's desire to sell products to the ever-gullible patriot that is the steadfast Fox News viewer.
Advertisement