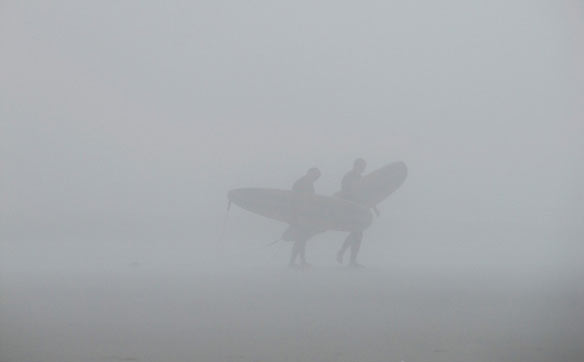 As Americans emerged from the fog of the 2016 presidential result, one repeating question heard from all corners has been: Why do democrats keep losing elections?
While coming to my own terms with "President Trump", I went back to something written in April, 2015 when POLITUSIC started following a local county supervisor race in San Luis Obispo County (SLO County). After re-reading the beginning of that article, it now looks like a fairly accurate prediction of what happened nationally. Even SLO County – a coastal county in California – is now controlled by the right wing because democrats spend more time toasting one another at wineries than knocking on doors of their constituents. Democrats forgot their roots: The People.
And so, to help us understand why The Democratic Party keeps losing elections and where we go from here, I've reposted the Democrats vs. Republicans section of that article. There are a handful of SLO County references that might not make sense, but give the whole thing a read and let us know if you find parallels to your own local Democratic Party.
Originally posted April 12th, 2015:
The State of the Debate: Right vs. Left in SLO County
The Democrats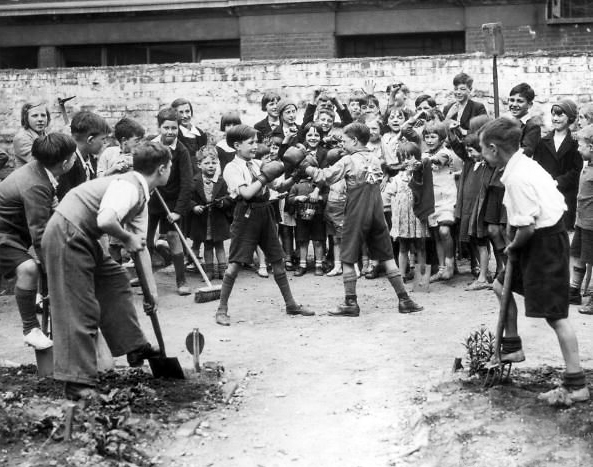 Local article: Change in civility coming to SLO County government. "Hope" from the left is the only way to label this one. Personally, I don't agree with the premise, but that's not to say it's wrong. However, it unfortunately dives headfirst like a Buster Keaton movie into a stereotype of liberals: most "influential" SLO democrats only speak to the the more… shall we say well-to-do dems who aren't concerned about food, fuel, or utility bills on a regular basis. Left-leaning writers tend to literarily amble down the same, well-trodden ego-battle path they claim to never travel, rather than staying focussed on aggressively promoting good policy that can benefit, you know, people who need it. The lucky few who actually have a platform from which they can advocate change waste it on finger wagging and self-defense parentheses. SLO County has a lot of very smart people in positions with inherent public reach, yet they bloviate rather than advocate. Finger wagging isn't advocacy. Theorizing isn't policy. Democracy requires do.
I have to give some leeway, because this is a small town sort of county. If a person gets blasted in the paper, there's a good chance the author lives next door. Everything is personal, which is why the blame game is cyclical and most end up accomplishing little more than the occasional black eye.
It's sad, though. To earn a vote from its base the GOP will kill their own grandmother (2009AD: death panels, Sarah Palin), eliminate abortion state-wide (AGW: trap laws, the South), and make climate change against the freakin' law (2011: House Bill 819 in North Carolina, Gov. Rick Scott in Florida) – yet 95% of democrats don't even know how to talk to theirs. It's amazing. Sad and amazing. Like December sunsets in Iceland. Like seats in the House and Senate being lost…. one… after… the… other. Lost for years to come; uncertain if we'll ever get them back.
Most suburban democrats I know treat politics more like a wine tasting club during which their noses are only not upturned in times of sniffing a new pour. Yes, they care, but who doesn't? Local liberal politics is more an event than it is a vehicle of action to move policy – and the people who could benefit from that policy into a better zip code. The biggest event of the year seems to be "Dining with the Stars"  – when it should be a county-wide, door-to-door voter registration day.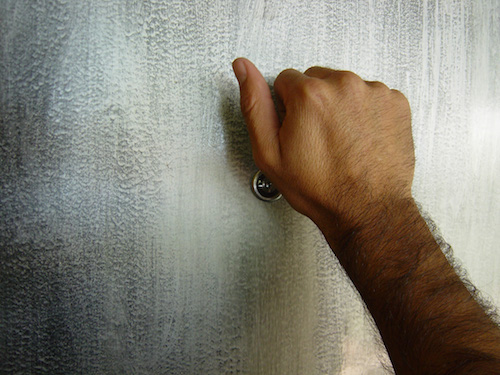 Are there no unions? Are there no organizers? Seriously… are there!?! None have knocked on my door. I've lived in SLO County for 3 presidential elections and 5 mid-terms. During that time every evangelical denomination known to man – and many not known to Jesus –  knocked on my door. (more than thrice. each. they even share notes.) My door has been short-stature-knocked-upon for countless school fundraisers (some real, some scams) – but not a single democratic activist has worn a knuckle or rung a bell. Not one. Who cares about a change of civility? I want to see a change of organizational skills.
The type of rhetoric we see publicly arguing on behalf of democrats is also why republicans gain traction mocking democrats for being elitist, out of touch, and generally too disorganized to accomplish anything when in groups larger than can fit at the Edna Valley wine tasting bar (about 19; 22-24 if they're fit – I'm talking the tasting bar, not further down where you buy the over-priced olive oil). This sort of stuff doesn't speak to the general public – it doesn't even speak at them like most national democrats do – it estrangesthem.
Here's a tip: WE DON'T CARE!  We don't care about petty ping-pong battles between people talking about things that have no impact whatsoever on our daily lives. We work hard, worry quietly, have just enough to pay the bills, think about water, retirement and car payments – we HATE pot holes – and we find ourselves tired most of the too-long day! … That's how most people exercise Life in SLO County... … …
We don't ask for much. We just want our kids to be happy. And maybe the occasional moment without worry for ourselves. Show us how you'll do that – write about that – tell us how you're going to do that… and then you'll get us to the polls. Everything else is high-roller, gated-community balderdash that – this is not hyperbole – carries no meaning for 75% of your voters. You might as well be Charlie Brown's teacher. Democrats need to get back to their roots: the coalition that is The People. Re-educate yourselves how to have a meaningful conversation with them – drop the rest of the bull pucky and you might actually win some seats rather than barely holding onto them.
The Republicans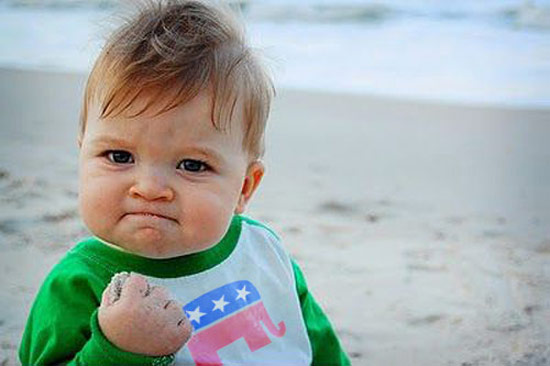 Whereas democrats gather to bury their noses in vintages that the majority of their constituents could never afford, SLO republicans gather to chant, chug, and go "Whooo Hooo! America!!" ( …now who's stereotyping? … don't look at me… wine gives me a headache…. like Dan Reeder, I drink beer… and Whoo Hooo feels pretty damn good if you do it right. )
Since SLO County is so homogenous you can apply much of what I said about county democrats to the SLO County GOP as well. Beyond republicans generally having better organizational skills, the core differences between the local political parties are:
Active democrats ride bicycles, while active republicans ride horses (both sides dress up in the fashionably applicable clothing, so republicans win that issue in my book: anyone over 25 should never wear spandex);
Republicans actually know how to speak to their base, and;
As is the case nationally, the hard-right uses anger as mortar for its party headquarters.
Local article: Change in civility has come. This article is the Tea Party-ish retort to the above, authored by the very person it criticizes. (small town, big egos. you know how it goes.) It's basically a list-based method of, "Oh yeah? Well how about…" which personally I don't find effective because it reads too hyper-sensitive defensive. The best rebuttals never require more than a paragraph. Plato was short. What we see here is common. It's more like a junior high, insult-your-mom schoolyard battle of egos by two people who are smart enough to be better.
What I like about this response, however, is how it sites Parliament as an example. Since Mr. Brown bought it up, let's explore the UK Parliament in a way that might be productive in relation to the long-standing battle with open comment time at Board of Supervisors meetings that the über-right-wing in SLO County view as a venue for constant protest.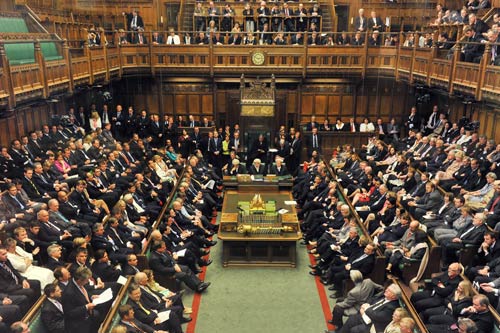 First, what's referenced is called Question Time. It happens all the time and consists of questions that are submitted a few days in advance and published for everyone to see. That process alone would stop about 50% of what we see during public comment at Board of Supervisors from ever happening. These are also not open comments, they're specific questions with opportunities for a follow-up as allowed by the Speaker.The questions also have to be specific to the area of governance overseen by the person being asked (i.e. it cannot be a paranoid 15-degrees of separation oratory about how a pre-k children's program will lead to a U.N take-over of America). But wait, there's more: these questions are from the MPs... not the general public releasing pent up anger by shouting at elected officials. And finally, if the questioner is off topic: the Speaker can shut them up so as to move the discussion forward to something that is actually productive! Mr. Brown mentioned it for a different reason, but in doing so the reference makes me pine for well behaved citizens and meetings that can actually be managed by the Chair.
Have a good read of the rebuttal, though. It gives a sense of the tenor of the "leaders" within the right in SLO County. Take note of the words employed to defend, as well. An attacking defense coupled with the self-idolizing is about all you need to know. Also remember that content is pointless. Ignore content (everyone is biased, remember?). In political spats like these content is secondary, because facts are optional and perception is more distorted than a third-rate traveling circus's House of Mirrors flat bed truck parked on uneven ground. Both sides are trying to sell something, which means how they're selling is what's important. How the content is delivered gives us insight into the Why. And Why is all that matters when there's an agenda.
The Double C: Civility and Congeniality in SLO County Politics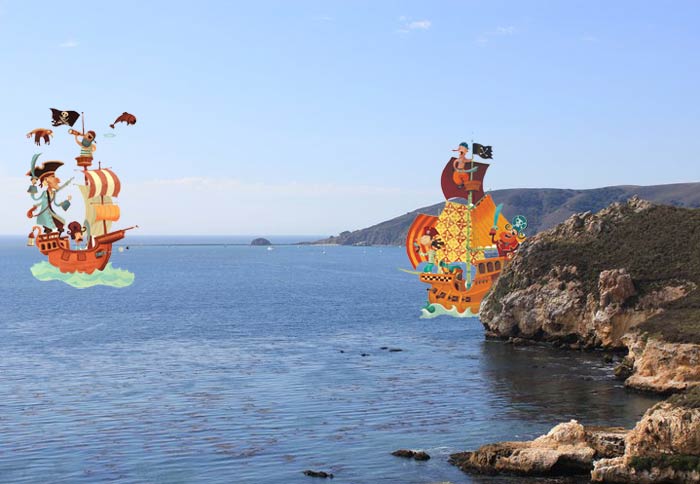 On the (alleged) civility debate: the irony gets lost in the crossfire, and the Truth is lost on those who lack humor. (i.e. political complainers (e.g. the Tea Party). Seriously: try telling an angry person a joke – they never understand, and merely complain more aggressively to compensate.) The above two articles demonstrate basic American politics: two parties blaming one another from the security of their own manicured yards, while both are smart enough to know there's a 8-foot winter-flowering hedge between the two making it impossible to convince the other of anything. Why bother? They don't do it to convince the opposition of anything. They do it to impress their own ranks.
The result is a steadfast stalemate.
Most political pieces are like two pirate ships just out of cannon range yelling "YAR!!! YAR!!" at one another… yet so far separated that they can only hear their own yarring. The crews hear their captain's yar, and energetically facebook-echo a longer-tailed "YARRRR!" right back at them… but that's about all that ever happens. (A couple deck hands might add a, "Dat 'sright cap'in! Yer da leader man, ewe aurr!" ) The point is: the message stays inside the respective pens, and accomplishes nothing more than make the ranks feel a little better about their position. It's one thing to pretend you're a shepherd or a captain, it's something else entirely to be one. I think most people just like to wear costumes, wield plastic swords, and graze on others' greener pastures.
Democrats forget that they, too, exist in an echo chamber; especially in corners of the world like SLO County. The left's chamber is nowhere near as lead-lined, dug into the Earth's crust, and "protected" with boobie-traps as the right-wing echo bunker … but it exists on the left nevertheless. The winning ticket is the one who knows how to get messages outside the bubbles. Thus far, we don't see any opinion writers on either side of politics in SLO County who are able to do that effectively. Just choir leaders shouting at their own baritones and… basses.
And no, don't make Logic weep in its UFS beer (Under Funded Schools micro-brew: a combination of the bitterness of an IPA, the futility of a Sharps, and bladder control of a case of Bud Lite on race day), by interpreting I'm implying POLITUSIC does reach outside the political ideology social bubbles. Just because I say A not B does not mean C is B. All I know is whatever efforts exist now (which are few, far between, and further removed) don't motivate the people who need motivating.
Yarring echo chambers aside, congeniality is an over-represented falsehood in politics. Yarring is encouraged by POLITUSIC if it ultimately results in, "All those in favor say aye. Excellent! Single-payer it is!", but whoever gerrymandered Congeniality's district into what defines a good politician needs to be ushered out the back door. What defines a good politician is what they accomplish, not whether or not they can smile while some pumped-up-on-Alex-Jones-moron is yelling at them. The thing that most people in the right wing forget (i.e. the angry voter, which can also include people who vote democratic) is that being in an elected office means governing: accomplishing things, creating plans, and getting things done. In politics, a decision will alwaysmake someone angry. It's politics! A county supervisor isn't elected to be universally liked, vote in the minority to be symbolically a maverick, or win a smiling contest – a supervisor is there to get sh*t done. That's it. That's the job. Prove you can do the job and then we'll say you deserve the job. If all you can do is complain about the job, then you're not qualified to sit in the chair.
Advertisement