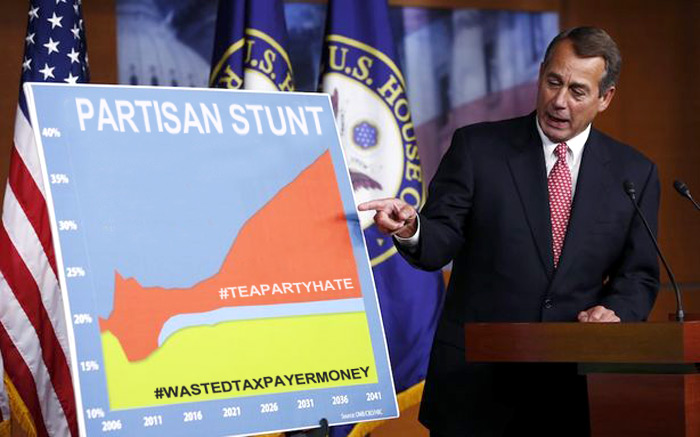 What John Boehner is doing is either a bizarre form of entrapment, or a bold-faced political stunt. Either way it's another dark cloud on his directionless speakership.
Entrapment:  "The act of government agents or officials that induces a person to commit a crime he or she is not previously disposed to commit." It certainly fits the situation.
Republicans in Congress voted over 50 times to stop Obamacare. Republicans in Congress wanted President Obama to waive and delay the employer mandate portion of the ACA. Other than voting for repeal, Republicans in Congress did everything possible to stop all activities in Congress, including anything to improve the ACA. President Obama was then forced to use his executive powers to do what Republicans wanted: delay the employer mandate. Now Republicans are suing Obama for doing exactly what they demanded be done, but made it impossible to do by any other means except executive order. I'm not a lawyer, but that's as close to defining entrapment within the environment of politics that I've ever seen.
Republicans suing Obama over not implementing Obamacare is a farce. It's a partisan stunt. If Shakespeare were alive, not even he could have imagined such an absurd comedy. Puck wouldn't touch this narrative with a 10 meter poll, and he likes donkeys. To look at this, we have to put aside the absurdity of the House Speaker suing the President of the United States. The process starts with a resolution in the House that basically authorizes the Speaker of the House to move forward. The draft resolution language is typically dry,
"Resolved, That the Speaker may initiate or intervene in one or more civil actions on behalf of the House of Representatives in a Federal court of competent jurisdiction to seek relief pursuant to sections 2201 and 2202 of title 28, United States Code, and to seek appropriate ancillary relief, including injunctive relief, regarding the failure of the President, the head of any department or agency, or any other officer or employee of the United States, to act in a manner consistent with that official's duties under the Constitution and laws of the United States with respect to implementation of (including a failure to implement) any provision of the Patient Protection and Affordable Care Act and title I and subtitle B of title II of the Health Care and Education Reconciliation Act of 2010, including any amendment made by such provision."
This is important: all we have is a draft resolution by the House to allow John Boehner to file a civil lawsuit against President Obama. A yes vote on this resolution gives republicans in the House something they take back to their base, point to and proclaim, "See!?! This is what I've done this month to prove I hate Obama as much as you do! Yee Haw! Send him back to Kenya in a black helicopter flown by an illegal immigrant who uses birth control!!"
The resolution to allow Boehner to sue the President is a partisan political stunt in an election year. It might very well be an interesting legal question, but that's not why the republicans are doing it. As always, the Republican Party has nothing better to do. They can't do anything except grandstand and do things like this to prevent their voter base from eating them alive.
The republican base is up in arms about the invasion of America. (The narrative in Republicanland is that small children from "Mexico" are taking over the country. Invasion is the word they use. To help the fervor they've added that any and all immigrants are "bringing diseases" – as if they think of these children as wild animals – real nice and caring group of people the Tea Party is, eh? WWJD.
John Boehner cannot sue Obama over immigration, though. That throws too much responsibility to solve the immigration crisis back onto Congress, which Boehner knows is impossible. And so… the Speaker announced that he was planning on suing the President for doing exactly what republicans wanted him to do. We all know this ridiculous lawsuit is designed solely to give the crazy souls of the republican base something to cheer about. It's a partisan stunt – it's a sorry statement on the state of an impotent and imploding Republican Party.
The House will pass the resolution, which will make the base happy, but quietly let it die thereafter. There will be no lawsuit, just a resolution that the whack job Tea Party can take back to their racist states and show that they voted for it. But back to entrapment… Republicans in Congress created the situation that required Obama to take executive action in order to do what the Republicans were demanding.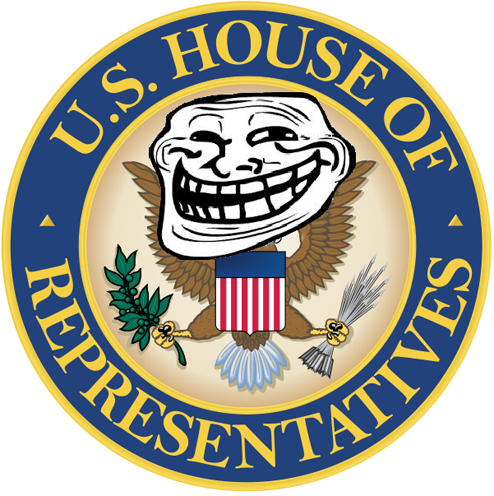 This latest grandstanding makes the House even more like screaming children playing dress-up with their daddy's clothes and money. At least prior to this melodrama the bat-crazy House republicans just shot their own feet and caused chaos inside their own walls. Now they demanded something, refused to do it themselves, then sue the President for doing exactly what they wanted. As the President asked, "Really?!?" House republicans can't do anything themselves, apparently, because they're too busy hitting themselves in the face with Nerf baseball bats. All they can achieve are partisan stunts to keep the Tea Party inside the walls of Republicanland.
Like I said, I'm not a lawyer. The legal question as to whether the President had the authority is a legitimate one, but is it mitigated or even thrown out for cause because the group that's suing him forced him to do it in the first place?
Unfortunately, I doubt reality of the situation applies when it comes to constitutional law, but it probably won't matter anyway. This is clearly a partisan stunt – republicans diving off a 50 foot platform into a swimming pool that has no water just to make the Tea Party republican base cheer. Given the motivation, it's very possible that it won't even get any further than the vote on the resolution, anyway. All they need is the vote on record to take back to their ignorant, moronic, hate-filled voter base and make them cheer and jeer like Monty Python village idiots.
Advertisement