Trump supporters aren't political supporters – they're superfans.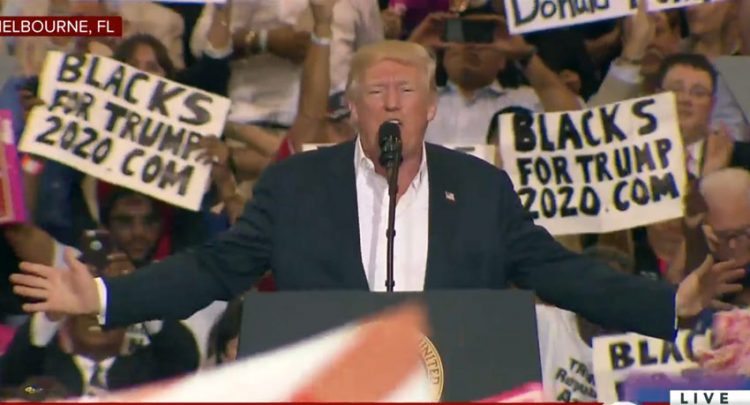 One month into office, Donald Trump held a campaign rally in Melbourne, FL1
Approximately 9000 people attended – many waiting since the early morning hours – to cheer and chant their president.
Being an American who views Donald Trump as the silver spoon sock puppet of Steve Bannon, for the duration of this campaign rally my mind kept going back to the same thought: these people love him. They really love him.
Why are Trump supporters so loyal?
Trump supporter loyalty and admiration is very real, and it isn't something the rest of the country can simply write off to dog whistle politics or the lack of being burdened with an overabundance of education2. Donald Trump inspires them and has created a political army just as dedicated as the "Bernie or Busters" who cried their way through the DNC.
If those who are not part of Trump's America wish to break through the Trumpland wall, we need to spend time figuring out why his supporter loyalty level is so intense – because their bond to him is much stronger than the bonds inside Resist and Indivisible.
Why do Trump supporters love him so much?
Signs and shout lines. Those two things give the most insight into the emotional state of mobs.
It's no secret that POLITUSIC is convinced hate is hardwired into the brain of the GOP base; there's just too much being thrown at them from right-wing media over the last 20 years. Since the steeping of the Tea Party, hate has been the mortar the keeps all the factions of the Republican Party together. What's fascinating about The Presidency of Donald Trump3, is that he managed to mutate shared hate into an emotion that borders on a militaristic sense of loyalty. Donald Trump is literally their Commander in Chief.
The signs and shout lines of his "revolutionary" campaign continued today. Shouts of "Drain the swamp" and "Hillary for Prison" signs made his supporters eyes light up. The only notable addition to Trump's stump was his new tendency to pre-blame his failures. More than twice he mentioned, "…that mess I was left by Obama, folks I was left a mess like you wouldn't believe."
Trump's base is the same republican voter base America has had for two presidential election cycles: they love mocking democrats, love hating the Clintons, love to chanting three-syllable slogans, and think Freedom applies only to their own belief system. Before Trump, though, they were given Bushes, John McCain and Mitt Romney… not exactly the sort who chant along with the mob.
That Trump was willing to lead mob chants was the first real change he brought to the GOP base: he validated their hate instead of quietly putting up with it in order to win votes.
Gold plated baby buggies, supermodels, and gawd-awful design sense
Envy is the hate additive that revs up Trumpster throttles. Men, in particular, want the life Donald Trump lives. Mitt Romney was rich, but he wasn't a billionaire – and he wasn't married to a mysterious super model.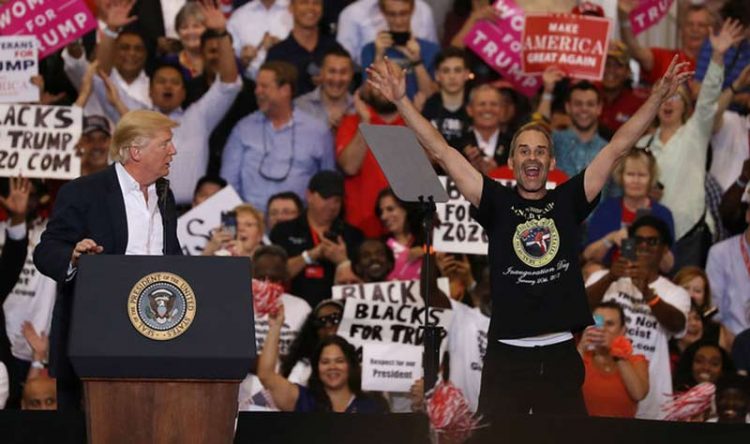 During the "Make Donald Feel Better" campaign rally, Trump invited a supporter on stage who he "saw being interviewed on TV"4 The man behaved as though he was meeting the Beetles. He didn't cry, but came darn-well close; borderline speechless with his head in his hands on multiple occasions.
For his supporters, to meet Donald J. Trump is to meet their hero: the person they admire and want to be.
Trump supporters aren't supporters – they're superfans. The man he invited on stage today was a fanboy. That's the mental state we need to remember when addressing Trumpsters on policy matters.
Like my mother watching John, Paul, George, and Ringo: when a Trumpster sees or discusses Donald J. Trump they lose a bit of their rational mind. To superfans, their idol is one step below a god – and just as infallible.
Donald Trump didn't just affirm the hate of the GOP base, he became their superstar. That's going to be a difficult bond to break with a Resist sign and a few town halls.
1 Yes, campaign rally. Paid for by his campaign committee. back
2 A humble nod to Firefly. back
3 POLITUSIC doesn't believe Donald J. Trump is doing the job of the Office of the President. He is "The President", but Steve Bannon and his son-in-law are doing the work while Ivanka is the orange orangutan's handler. As such, whenever possible POLITUSIC tries to refer to the collective as "The Presidency of Donald Trump". back
4 If Trump has enough time to watch interviews of his supports on television (as opposed to finding a replacement National Security Advisor), then he's clearly not doing the job of the Office of the President. Between his tweets, photo-ops, ego-building campaign rallies, and TV viewing – I'm fairly certain Trump works less than I do. back
Advertisement