"What would Alpha do?"
A preface: Some credit for this beta male analysis must be given to one of my favorite authors, Christopher Moore, who wrote a book that humorously analyzes beta behavior in modern American society. I'm not going to tell you which book, though, so you'll just have to buy all of them.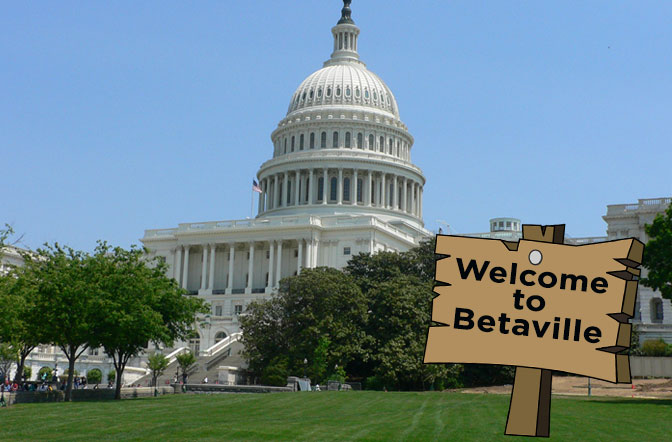 What this particular beta male wants to know is how did so many betas boys wiggle their way into Congress? Indeed, most of the duck-footed congressional sub-species currently flapping around the chambers believe they're alpha males – but as we'll soon discover – their behavior proves that the vast majority of men in Congress – if not all – are, in fact, true beta males.
Thanks to the evolution of the modern American male, the town that has long been called, "Hollywood for ugly people" ought to be rechristened, "Betaville".
Economy Has Evolved Above Nature In The Food Chain
We humans spend an enormous amount of time convincing ourselves we're not animals.1 So much so that the rules of Economy – a social fabrication – wholly trump the rules of Nature. Find me one other species where you find 20-year-old goddesses grasping to octogenarians for survival purposes. We've twisted Survival to such a point that Human Nature has convinced itself power within a pod is defined by a temporary creation of the human psyche: wealth. As such, in American tribes2 we have thousands of "powerful" men strutting around the fields of gold displaying their evolutionary fortitude like birds of paradise. These men are convinced their social alpha-ism bestows upon them natural alpha instincts…
They're wrong.
A man may be rich… but there's a 99.8% chance he's still a beta male. Therein hides a capital Truth about politics in America.3
The Evolution of the Modern American Beta Male
I am a proud beta male. For thousands and thousands of years my ancestral father-line survived due to one thing: their imagination. My great-to-the-7th-power grandfather didn't wrestle lions, and it's safe to assume he wasn't a master of the spear. He probably hung back with the ladies and let the big guys get maimed.
You see, beta males are cursed with a overly-sensitive sense of "What if?" The very characteristics that created modern society, imagination and curiosity, are what hold the beta male back in the society he created. Beta males spend most of their "me time" trying to predict the future. If you happen to be a beta male who watches Fox News, that quiet time ultimately results in wild-running paranoia: predicting threats and conjuring various ways you can avoid them.
At this point, however, science requires we acknowledge a couple branches to our beta male evolutionary tree. American society – in all its junior high mentality glory – has created three forms of beta males: Fox News, MSNBC, and "Who's Joe Biden?".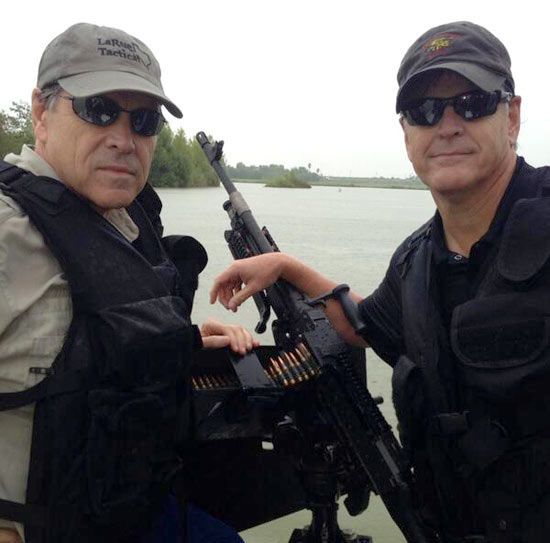 Fox News Betas imagination see only the threat lurking in every hole, so they install security systems and amass guns. If a man picks up a gun and his face or eyes change in any way: he's a beta male. Posing with weapons is another scientifically proven test of true beta-ness. It's displaying power by means of something else, rather than themselves. Only betas demonstrate that behavior. The Fox News Beta ancestral line was the first to discover how adding leverage by means of a large, wooden club can do all sorts of damaging things to uninvited guests' noggens. They also discovered that jumping up and down while shouting, "GRRWAR AAROOGGA!!!" can sometimes be an effective way to make other animals turn around and leave the immediate premises. (A few of the smaller animals turn away because they're scared. But the vast majority do so because they think, "That thing's crazy, and we should definitely not eat or drink whatever might be around its cave.")
The Fox News Beta invented the No Trespassing sign.
They were the first to build walls.
The earliest Fox News Betas never slept very well because they always picked the cave most removed from perceived danger, rather than one that was warm or close to a water source. The closest neighbor to an FNB ancestor was at least three caves away and behind a crude fence of some sort.  However, Fox News Betas do aggressively flock to the same geographic areas, but they do not share their personal territory with other species, and often not even with their own kind. Ancient nesting sites were explicitly marked, and any animal that crossed a territorial line got a face full of, "GRRWAR AAROOGGA!"
Alternatively, the MSNBC Beta imagination sees strength in numbers. MSNBC Betas invented the commune. Their ancestral line gathered around common water sources and therefore are more prone to live in larger groups, closer together, and believe that sharing resources is usually the best way to keep everyone happy. This species also believes most bipeds trip over obstacles. He believes people are clumsy in gate and reaction – and so best distribute sharp objects and projectile launching devices to anyone and everyone who simply likes to "blow sh*t up". The MSNBC Beta invented the phrase "No worries."4
MSNBC Betas go with the flow and don't dig conflict. They don't seem to mind if another of their species enters their territory, and interestingly, they even congregate with other species in symbiotic relationships. Contrary to popular legend, the earliest MSNBC Betas did not, in fact, hug trees as an early practice of religiosity, but they did spend a lot of time walking forests using cork and strips of bark as footwear.
Finally, the beta male we call, "Who's Joe Biden?" (WJB).
WJB Beta imagination doesn't have much time to do more than lock their doors and hope for the best. This is a fairly new branch of the beta male evolutionary tree in that it only arrived after much of the world's population was forced to work at least two jobs in order to feed themselves. They share both ancestral lines mentioned above, but are slowly evolving into a new species that is still without an official name or media outlet. However, if on safari you can easily identify them among the herds as fitting the description, "downtrodden" and "damn tired".
The Beta Male Politician: Risk Assessment and Policymaking
While on one hand the beta male's imagination helped his survival through the ages, it also has a nasty tendency to make him to lie to himself. This is where most politicians come into play. The key here is to not look at how betas or alphas behave… it's looking at how a beta thinks an alpha would behave. That's the secret to understanding most American politicians: "What would Alpha do?"
(… especially when it comes to understanding extreme republicans…) 5
We also can't overlook some basics about the brain. There's been a decent amount of research trying to determine on a biological level what defines a conservative vs. a liberal. Some of the best boils down to where in the brain people assess risk. Where an individual assesses risk can be telling about basically all other aspects of their decision-making process. Generally speaking, people who are prone to be conservative assess risk in the right amygdala; the part of the brain that processes fear, threat, and reward. People who are prone to be liberal assess risk in the posterior insula; the part of the brain that processes emotion and body language cues. You can think of the region of the brain being used as if its the criterion by which a person makes judgements. The object of risk is exactly the same, but how each assesses it – physiologically and chemically – is very different because they literally use different criteria to weigh and consider the issue.
So let's take that idea with us to while looking at beta males in politics. Conservatives: risk assessed as fear, threat, and reward. Progressives: risk assessed as body language and emotion.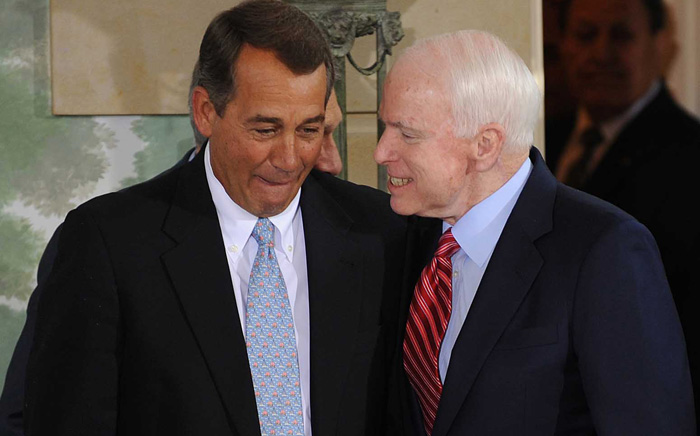 I find it difficult not to laugh out loud every time I hear a talking head glabbing about "GOP Hawks". The "hawkishness" we see demonstrated by the war-hungry in Washington is actually the antithesis of what a hawk represents (inherent power and decisiveness, unaided by tools, and used only when needed… Alpha traits). The concept of a pre-emptive strike was invented by the vice president of beta males thousands of years ago. Beta males can't dominate on a level playing field, so rather than be obliterated… strike first when the other guy isn't watching. Ironically, the more aggressive a politician is on military build-up and going to war, the more beta male their behavior really is. It is classic "What would Alpha do?" coupled the true beta male instinct to be as far away from a face-to-face fight as possible.
We cannot ignore the empowering glow of a beta male who is lying to himself.
A beta male's imagination is so refined that he can convince himself he is a god – some have. The very structure of committee and subcommittee chairs bolster the beta male politician's chest puff: feeling important by means of meaningless titles and grandstanding. (Most middle managers, as well as the literally millions of  "Vice President of ____" in American business are also beta males who spend their contemplative time convincing themselves – usually in a mirror – that they are, "Alpha baby! Who's your daddy?!")
For the Fox News Beta politician, "What would Alpha do?" is usually answered by a modern translation of  "GRRWAR AAROOGGA!!!" That translation might be cutting funding for programs that help the poor, or voting to go to war in order to once again "prevent" war. These betas are confronted with risks on a daily basis, and so, using the part of the brain that processes fear, threat, and reward, they make decisions as if the world is collapsing around their beta ears. Every risk is a fear. Every decision a threat. Every vote a possible reward.
For the MSNBC Beta politician, "What would Alpha do?" is usually answered with a disappointing sigh, or the sound of air slowly leaking out of a week-old balloon. Oh yes, they do display some gathering in cohesive group behavior in the beginning, but like an office party for your boss, the end-result tends to be randomly scattered cliques spread throughout the conference room with no consensus for an exit plan. Since MSNBCB's process risk and make decisions based on body language and emotion… decisions take a very, very long time. They will do just about anything to avoid being offensive, and say "My good friend on the other side of the aisle" more than most. Every decision triggers emotion, and therefore every decision is personal. They talk softly, and have no idea whatsoever what Alpha might do, because they haven't had an alpha male as a friend since high school.
There are no alpha males in Washington. Maybe a keen explorer will locate an alpha lobbyist here or there, but I think even David Attenborough would agree with me on this one. The U.S. Congress is chocked full of men who create facades in hopes of convincing potential mates and rivals that they are more than what they are: beta males.
…if you want any progress in American government, then… I guess it's up to the alpha females.
1 Among other things, including but not limited to: "skinny pants rock", "80's glam rock was manly", "a bigger truck makes me a bigger man", and "that really attractive woman looked my way, so she must totally dig me. I'm totally in love." (back)
2 Particularly white tribes. (back)
3 Usually it's hiding under the stairs, in a corner of the communal staff room, or in the back of a deep cave behind a rock. (back)
4 Because he decided getting punched in the face isn't a pleasurable experience, and it should generally be avoided as much as possible.(back)
5 Yes, I realize that I'm writing about politicians purely in the male sense. Women are in politics, too – most are true alpha females – but for now I'm ignoring that aspect for the sake of giving betas some much coveted time in the limelight. (back)
Advertisement