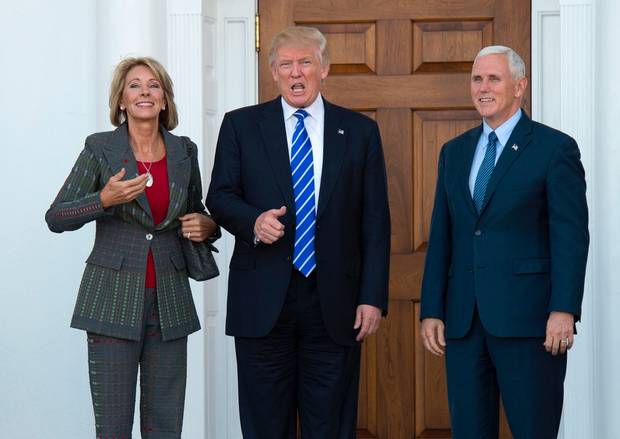 School vouchers is a process of giving money to parents to buy education, rather than giving it directly to public schools. "School choice" is the attempt to privatize K-12 education in America (i.e. make it a profit-driven market). The process is to give parents a voucher – which is a coupon – that they use to buy education for their kids. In most instances, the voucher will not be enough to cover the entire purchase price, which means parents will pay more out of pocket. School vouchers apply to all forms of K-12 education: private schools, public schools, home schooling, charter schools, religious schools, and even online education platforms.
"School Choice" is the catch phrase republicans to sell school voucher programs to the public. It's similar to how the GOP uses "Healthcare Choice" for their plan to dismantle Obamacare, and "Right to Work" for union-busting legislation. In America, it's all about the catch phrase.
Donald Trump's pick for Secretary of Education is Betsy DeVos: yet another billionaire republican mega donor. According to The Hill, in 2015 the DeVos family donated more money directly to political campaigns than any other in America. Betsy and her husband Dick have donated millions of dollars in support of "school choice" and "right to work" candidates. They also happen to be founders of their own charter school in Michigan.
Supporters of school vouchers claim market competition will increase the education quality of all schools. Opponents claim it increases social inequality, there's no improvement to school quality, and it can destroy public school system entirely.
What are school vouchers & how are they used?
A school voucher program is basically the exact same thing as privatizing Medicare: each person gets a coupon for a fixed amount of money to pay for the product. In the case of school vouchers, the product is K-12 education.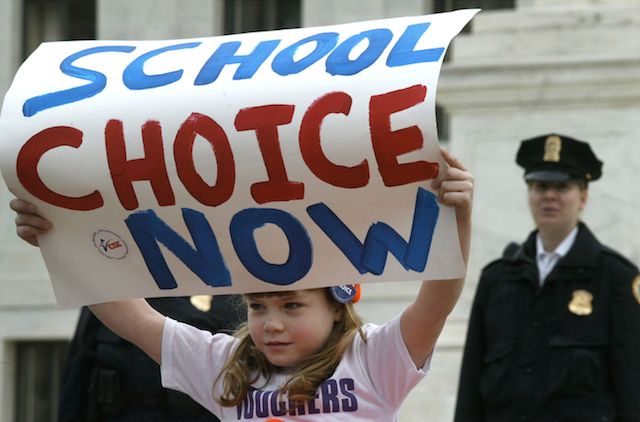 In the current public education system – which admittedly has flaws – states and communities use tax dollars to educate American children with a little financial assistance from the federal government. Private schools are traditionally faith-based, and/or accessible only by wealthier people who can afford tuition.
The school voucher program sales pitch is that by giving money – a voucher – directly to parents, they can use it pay tuition at any school for their child: "School Choice".
It sounds good at first. As we've said many times at POLITUSIC, Americans love choice, which is exactly why republicans always use that word. Many parents believe that having a school voucher will enable them to send their kids to a better school. However, those advocating school vouchers leave out the impasses and side-effects of a privatizing public institutions:
School vouchers are not scholarships. They are not need-based. Middle class families don't get vouchers worth more money than rich families. In addition to the state-issued voucher, some cities have been able to offer need-based scholarships to help lower-income families afford the better schools, but that practice is not the norm. Also, that extra scholarship money has to come from somewhere (most likely not from raising taxes on the rich).
Private school tuition doesn't get lower as a result of school vouchers. They are for profit companies, so chances are they'll raise tuition because of the influx of new money. The best schools will always be priced as the best schools: welcome to Economics 101. The end enrollment result is the same: only wealthy kids will be able to attend "the best" schools. They are called exclusive for a reason. Parents pay for that exclusivity.
In an effort to provide equal access, many schools that accept vouchers use a lottery system for school voucher admissions. Getting one's name pulled from a basket is not choice. It's luck.
School choice implies there are multiple schools to which students have access. This is true in areas with larger populations, but not in most towns where there are one or two K-12 options. The only change parents and student experience is who gets paid: companies or schools.
Schools are not required to accept vouchers.  Private schools can reject vouchers if they choose, which is often the case. Doing so helps maintain an economically homogeneous student body – which if we're being honest with ourselves – is one of the reasons many parents send their kids there in the first place.
The primary argument for school voucher programs is that competition will improve education. Thus far there is not much data to support that claim. The main argument against is that school vouchers increase inequality. Thus far there is a lot of data that supports that assertion. Math is the easiest way to understand why:
Increasing inequality as a result of school vouchers whittles down to that quirk of math most republicans cannot understand: a coupon is worthless if the person holding it cannot pay the balance. If a poor family and a wealthy family both get a school voucher for $4500, and the tuition for "the best school" is $8500… the wealthy family can afford the difference while the poor family cannot.
School choice increases the number of "snake oil schools"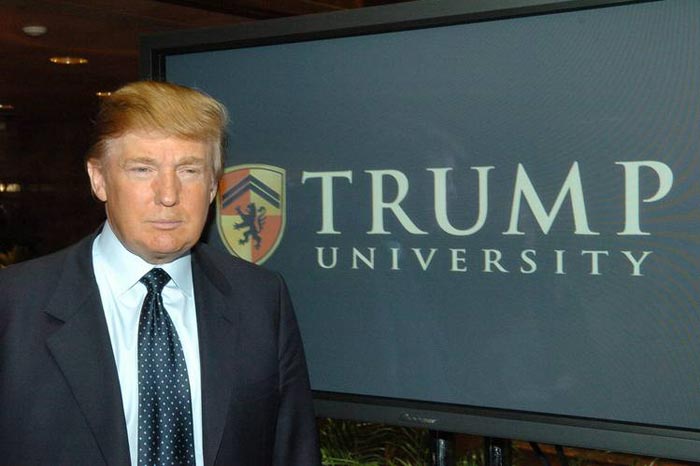 Remember ITT Tech and Trump University?
Privatizing the American education system opens the floodgates for bad quality education as well; more so than trumped-up promises of the free market increasing education quality. Bad schools can operate for years. Once a state regulatory agency shuts them down, it doesn't matter: they've already made their millions and just move on to the next state under new name. It happens all the time in post-secondary, vocational, and career education to exploit FAFSA and Pell Grants. Once there's a few billion dollars of vouchers up for grabs in the K-12 market – well, then it's virtually guaranteed to happen there as well. These companies sell promises and dreams, not good education.
Even in Betsy's home state of Michigan, critics have called the result of school choice as the "wild west" because there is so little regulation on quality and conflicts of interest. Thanks to the work of Betsy DeVos and her husband, Michigan also allows for-profit charter schools.
How snake oil schools work in the K-12 education market
Communities most at risk of school voucher abuse are small towns and suburbs that fit the one-and-one criteria: one high school and at least one gated community. Private education is a business, and they are very good at market research. The playbook is simple: a large education corporation swoops into town and quickly sets up an "exclusive private school" that teaches all K-12 grades. The model is usually a little bit "new wave" so they don't have to spend money on a traditional building with lots of classrooms and infrastructure. Tuition for the exclusive private school is priced for the local market: the calculated discretionary income of the top 30% of households above the voucher value – that way they get the voucher money from the government plus extra tuition payments from the parents. Wanting to give their kids the best possible education, parents flock to it with their school vouchers and checkbooks in hand. The private school rakes in this money, while the public school suffers financially due to a sharp decrease of enrollments.
After a few years the private school either gets shut down due to compliance issues, or simply leaves town because there are no more profits to be made. The town is left with its original public school, which at that point is dilapidated because the voucher money went to the private company instead of the public school system.
If Betsy DeVos and the "School Choice Movement" get their way, it's a story you'll hear a lot coming from one-and-one towns.
Do school voucher programs improve education quality?
Republicans like to point to Ohio's and Wisconsin as examples, but the data shows very little, if any, increase in student achievement or education quality. They like to boast of increased achievement in some areas, but fail to mention that all students, regardless of voucher status, increased achievement during the same period. There is no measurable difference between the two, and nowhere near enough vouchers used in any system to have increased competition between all the schools. In other words, all evidence regarding quality is circumstantial.
So what does change? Who gets the tax payer money. With a school voucher program private companies get the money, whereas in the the current system tax payer money goes to the public education system. (Generally speaking: there are federal and state programs that subsidize charter and faith-based schools.)
Thus far, areas that have experimented with privatizing public education have also come up short when it comes to cost efficiency. Milwaukee lost $22 million, and cities across the country completely forgot to account for side effects like increased transportation and administration costs. If California were to adopt school vouchers, the estimated cost would be $3 billion a year. Moreover, in cities like New York City, Dayton, and Washington, D.C. almost half of students who took part in the voucher program left and went back to the public school system after two years.
"School choice" sounds good. It looks good on a protest sign held by a small child, but it has yet to get results for anyone other than the private companies running them.
Can Trump and DeVos implement school vouchers nationally?
It's unlikely. Education is run by states and local communities (which is why science text books in certain areas of this country don't even mention evolution or contraception). But in this new America in which Trump rents space in his own building to his own Secret Service detail – and he will make millions doing it – unlikely doesn't mean impossible. "Drain the swamp", indeed.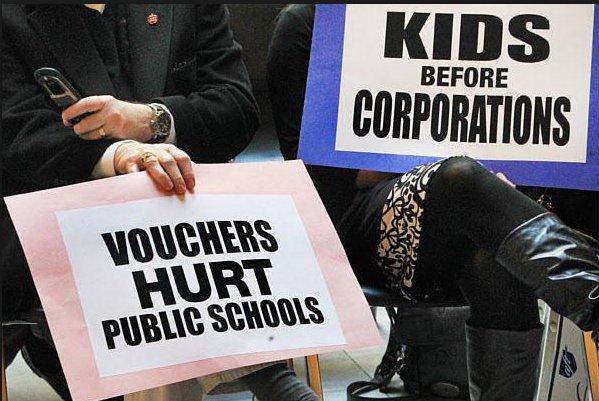 As Betsy DeVos knows, school vouchers are unpopular in many states: she's failed to get legislation passed a couple times. That hasn't stopped her from donating millions to her cause and to politicians who support it, however.
It is true that America's public school system is suffering, but it's because America doesn't invest in people anymore, it only invests in land or companies. That moral shift, coupled with decades of the extreme right-wing demonizing "the educated elite" has lowered the US education rank to 17th globally.
Giving tax payer money to corporations won't make our schools better. Giving tax payer money to private corporations won't give our children a well-rounded education. The free market isn't the solution to every problem in the world. The free market isn't God. Empirically, the only result of a completely free market is making rich people richer. At the expense of many, Betsy DeVos and her Blackwater brother understand that very well.
If the Republican Party truly values education, it needs to start by changing its tune: people having an education is a good thing that should be promoted, not something to be used as a campaign rally insult.
If America truly values education, we need to invest in people, not corporations.
Advertisement