Following in the footsteps of their führer, they ignore repeated failures, blame the black guy, and cling to the bumper sticker propaganda that won the election.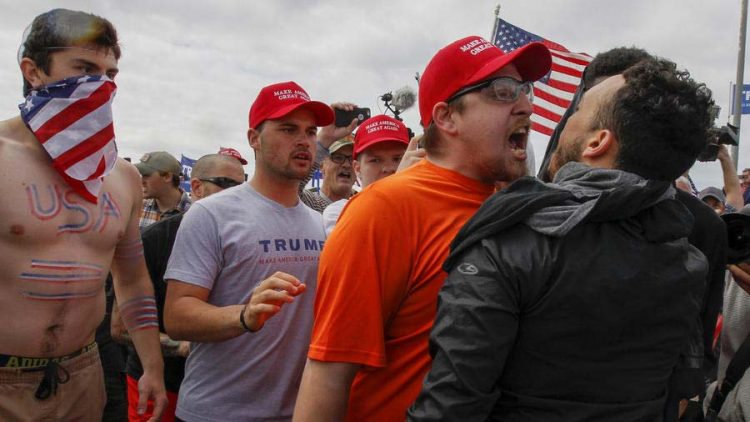 Over 30 pro-Trump rallies occurred across the US this weekend.
Two themes appeared to tie them together: 1) We're not racist, and 2) Trump is the best.
Attendance was mixed1 and signage was as expected.
In Huntington Beach, counter protesters got out of hand and arrests were made. Proud body-painted young men released white doves as their rally began, while in nearby Hollywood supporters danced in the streets wearing Hillary masks and prison attire. Absurdity was abound. Post-election Trumpster rallies are like tiny Mardi Gras parades in which death metal replaces jazz, rocks replace beads, and Good Will gave up on life by taking a nose dive off a Bourbon Street balcony.
Trump Supporters Aren't Racist
After winning the White House, if the winning team's supporters continue to throw political rallies, then you know you have a problem. Usually that problem revolves around fixing the game.
Months after the end of the season, Trump cheerleaders continue pep-rallying to empty bleachers.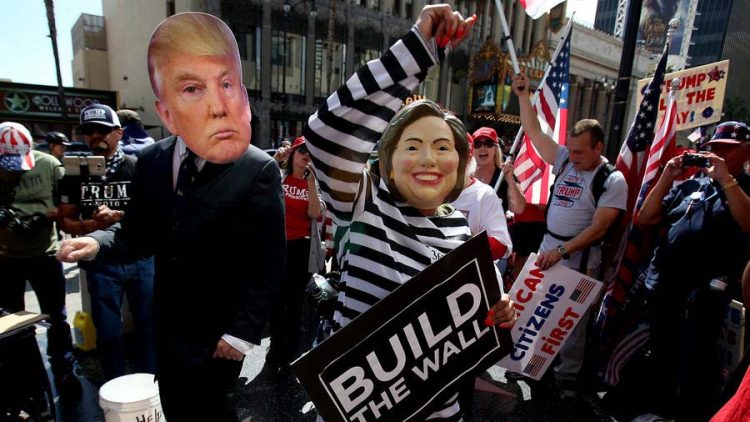 Beyond the empty chants of Trumpsters, these patriotic Americans apparently want to send the rest of us an important message: they aren't racist – they're "standing up for what they believe in"… the point they apparently miss is that what they believe just so happens to be racist.2
Yes, Trump super fans, we know: you have lots of black friends. But for your own good, you should stop digging yourselves deeper into your Trump reality holes.3
Oh yes, and they want the world to know that they believe national news media isn't fair, bad news is fake news, and Trump is the greatest president ever! Trump administration failures are the fault of Obama, Muslims, or brown-skinned immigrants (Canadian and European immigrants who look like them are OK).
…but there's nothing racist about those beliefs…. they really want us to understand that… as they scream in our faces… covered in body paint, clad in costumes, and carrying life-sized cardboard cut outs of Donald Trump.
President Trump Is The Greatest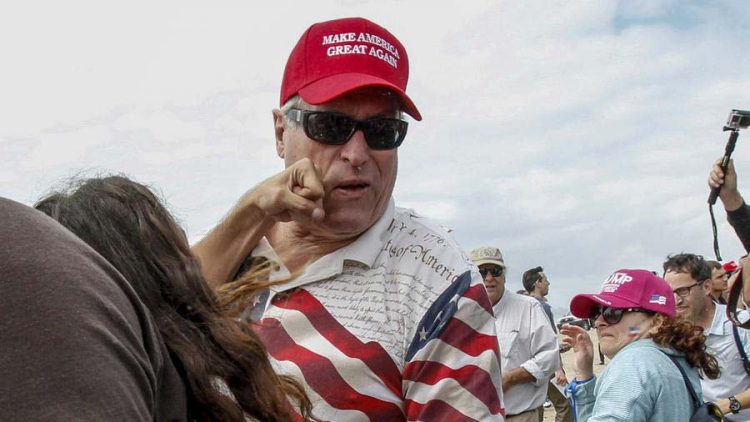 Giving the middle finger to reason, accomplishment, and truth, Trump super fans also rallied this weekend so Donald could "feel the love". Following in the footsteps of their führer, they ignore repeated failure, blame the black guy, and cling to the bumper sticker propaganda that won the election.
These people still love Trump. They want to be Trump. It's questionable if that loyalty can ever be broken by pesky things like facts.
And so the Trump team cheerleaders continue to build human pyramids and carry cardboard cuts outs of their quarterback who failed to get healthcare across the goal line. They call Trump a street fighter and praise how he – despite all proof – will Make America Great Again.
…but thus far, the only "greats" Donald Trump has made for America is a great big FBI investigation, great big secret service costs, and great big lawsuits against his xenophobic travel bans…
I guess it depends on what your definition of "great" is… maybe that's something Trump supporters should have asked during the election.
1 In crowd size, not skin color. (back)
2 For Trump super fans, there's no such thing as a straight line from A to B. (back)
3 Bunkers. (back)
Advertisement