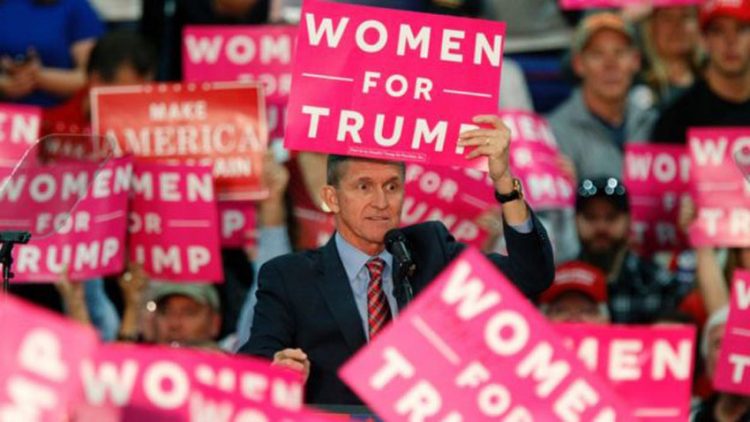 The surreal play titled, "The Presidency of Donald Trump" delivers playgoers a truly unique experience: a key character using his last breath to utter a campaign slogan.
Unfortunately for the producers, this cast of novice play actors1 comes off as overwhelmed by the cause of victory, and totally ignorant of the process of governance.
They bought a stage and an audience, but apparently lost the script on the tour bus – leaving American audiences stuck in private nightmares; waiting by a tree and wondering if we're in the right place at the right time2.
General Michael Flynn's final scene, "Resignation of a General", closes with a brief soliloquy:
I know with the strong leadership of President Donald J. Trump and Vice President Mike Pence and the superb team they are assembling, this team will go down in history as one of the greatest presidencies in U.S. history, and I firmly believe the American people will be well served as they all work together to help Make America Great Again.

Michael T. Flynn, LTG (Ret)

Assistant to the President / National Security Advisor
Four weeks into the 4-year run on Pennsylvania Avenue, "The Presidency of Donald Trump" has lost its National Security Advisor and is forced to use the understudy. Yet true to the vision of director Steve Bannon, the company will continue self-promoting during the performace like a carnival barker who refuses to get off the stage3.
Scriptless as the gilded set topples around them, Steve Bannon's Amazing Traveling Theatre Troupe is still trying to sell to audiences – and themselves – that they're competent, effective, and will be "one of the greatest presidencies in U.S. History…"
… give me a break.
The General's resignation scene in "The Presidency of Donald Trump" (Act 1, Scene 4) is less fulfilling than being sold an AMC Gremlin by a bitterly-divorced, slightly-sweaty and below-quota car salesman: two thumbs down.
1 It would be incorrect to label them Thespians. For purposes akin to reality, we'll call the cast Trumpians.back
2 One for the theatre majors out there. back
3 Or forgets. This reviewer isn't convinced the lead actor doesn't have a uniquely undiagnosed form of alzheimer's coupled with an acute sense of paranoia and clinical-study-worthy case of hyperegoism†.back
†I made that up. I'm pretty sure "hyperegoism" isn't a real thing, but someone with a lot of letters after their name should look into it.
Advertisement