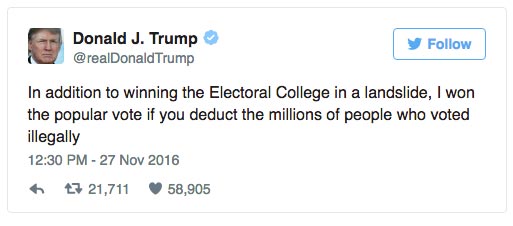 The Complainer-In-Chief is at it again.
Jill Stein's recount effort got under the President-Elect's skin a few days ago, but today – as is the norm – his childish Twitter rants have escalated.
Taking his usual retorting tactic, the Complainer-In-Chief is crying foul while simultaneously declaring a super-massive victory.
To add bitter cherries on top, Trump claims out of nowhere that "millions of people voted illegally" as well… OK. Thusly taking his ball and flying back home – against all evidence and reason – Donald Trump declares he won the popular vote.
Sadly, since social media is Donald Trump's state controlled media, his millions of bobble head followers probably believe him.
This person is going to be the next President of the United States. This petty, paranoid pinhead will be at the helm of this country.
We were embarrassed for America the night Trump was elected, and his actions continue to compound our shame.
One can imagine President Obama's head hung low in continued disbelief of the… caliber… of the person who will soon be sitting at his desk in the Oval Office.
Where for 240 years intelligent and serious men sat, a twaddling nitwit's backside will soon reside.
Lord help us.
Advertisement