Donald Trump is the defiant WHOOOHOOO inside the soul of mullet men.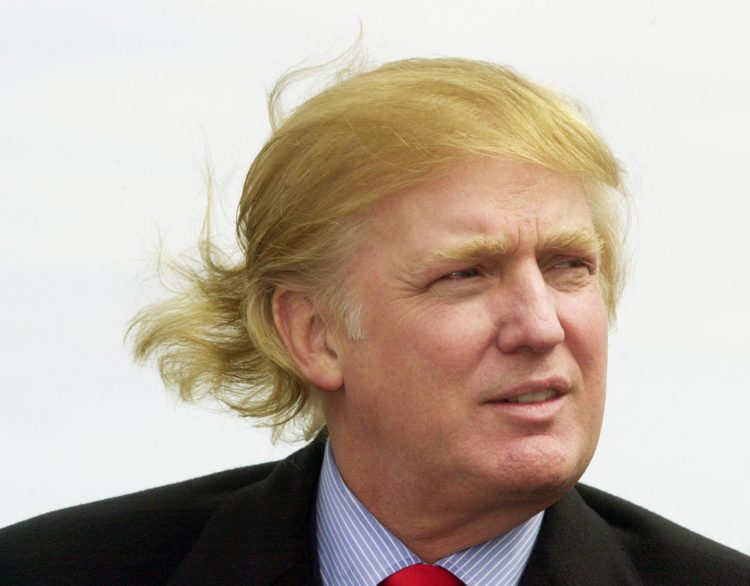 The secret to understanding President Donald J. Trump lies not in greed. It lies not in his belief that "Social Compact" is the name of a secret society of real estate developers and waste management companies whose clubhouse broom closet hides the secret to finding peace in the Middle East.
No. That's more like a Trump-branded Tom Hanks movie1.
An understanding in relation to the actions of President Donald J. Trump reveals itself when you accept this truth: Trump's hair isn't a comb over – it's a mullet.
Once realized, the pure number of weekly "WTF!?!" moments produced by President Trump plummet into a totality that amounts to a mere manageable collection of anxieties. Anxieties that – POLITUSIC has discovered with dedicated and thorough research – are easily overcome with a six-pack of good IPA ("the anti-mullet beer") and a weekend of either binge watching your favorite television series from the 80's, or non-stop listening to a Pandora station seeded with James Brown, The Doobie Brothers, Etta James, and Tool2.
…or cancelling your Twitter account.
What It Means To Have A Mullet Man As President of The United States
One is hard pressed to effectively write the personality implications of a man wearing a mullet. Apparently, Billy Ray Cyrus did. Yet, even with his – authenticity – Billy Ray fails to grasp the true essence of a Mullet Man.
It's POLITUSIC's theory that President Donald J. Trump is the Platonic Form, nay, the Heroic Form of Mullet Man3. His is the Devil's Haircut of the stereotype.
While their hero masks his mullet as a comb over, mullet men need not wear theirs on the outside. Like racism and misogyny, implicit mullets can be far more dangerous than explicit. When in Trump hordes (i.e. Trump rallies), the mullet mentality is seen on a massive scale from every possible corner of America. The Lengths, colors, and textures differ: it erupts from super cuts, buzz cuts, bobs and weaves. It even wears expensive suits and enjoys pedicures.
Mullet men – and their super-model-married hero, Donald Trump – defy pigeon holes4. While Logic dictates that the collective mullet men would rather see Donald Trump thrown off one of his own buildings than be presidentially spending millions of their tax dollars on weekend trips driving golf carts on greens, they mandated Donald become president. (Well… electorally mandated, anyway.)
But why? What blinds the mullet men collective to Donald J. Trump's false-promise absurdities?
Regardless of foul diet, country road or penthouse address, there is a call among mullet men that appears to be, if not universal, at least directly translatable between various manifestations of the mullet men tribes…
It goes, "WWOOOOOOHHOOOOOO!!!!!!!"
If you're not a mullet man… well, then, you just don't get it. Try as you might.
Donald J. Trump gets it… no… no, that's not correct. Donald J. Trump is it: Donald Trump is the defiant WHOOOHOOO inside the soul of mullet men.
That's why he gets away with acts that would doom any other "elected" "public" "servant". That's why he won the White House, and that's why – no matter what liberals tell themselves – he continues to win. As American democracy learned, national polls don't win elections. Combined with the GOP's sole shared political purpose: to control all judgeships, Trump's not-as-low-as-they-should-be poll numbers are easily high enough to win a second term.
Donald Trump's mullet is a shield. It's a magical defense strategy that blinds the press, terrifies progressives, and makes mullet men across the world swell to the point of punching someone with pride5. That's why he masks his mullet as a comb over: it would give away the secret to his power.
This theory is not a solution to the Trump Problem. But it is a step along the path of understanding Trumperica. And two things happen when a person begins to understand the source of their anxieties: they sleep better at night, and they begin to make plans to overcome.
Count me in.
1 Of which Donald is a super-big fan (though his grandchildren tire at the fact that within the first 10 minutes of these movies Grandpa Big Donny yells "THE PRIEST DID IT! THE PRIEST DID IT! SEE HOW SMART I AM!!?!?" (back)
2 Seriously, give it a go. After about 6-straight hours the songs get very interesting.(back)
3 If you close your eyes it's not difficult to envision the logo on his cape and preferred method of transportation. We don't even need to debate whether or not his plucky sidekick is named, Jarred "The Shrill Voiced" Weasel Boy. (back)
4 Usually because they already ate the pigeons and therefore cannot locate aforementioned holes. (back)
5 And prejudice. (back)
Advertisement